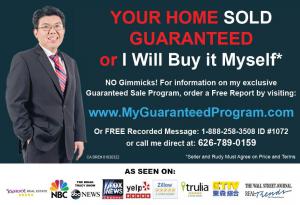 Rudy L. Kusuma Home Selling Team Ranked #1 The Most Reviews and Endorsements from Local Home Owners in zillow – Southern California Real Estate Market
10 Best Buys In Any Price Range To Give Buyers A Clear Advantage In The Market
LOS ANGELES, CALIFORNIA, USA, February 16, 2018 /EINPresswire.com/ — Award-winning Author and Renowned Realtor, Rudy L. Kusuma of the Team NuVision have recently released an amazing 'Best Buys Hotlist' for the aspiring homeowners in Southern California. The report list is now available on the website of Team NuVision and everyone can gain access to it for FREE simply by filling a form online. Moreover, the title of this report list is '10 Best Buys in Any Price Range' and it includes everything a buyer needs including pictures and all the other details.
"This is our New Year's Gift for all of you aspiring buyers and you can get your copy by completing the form on this page." Said Rudy l. Kusuma, while announcing the list on Team NuVision's website. "Having access to the hottest listings in your specific price range enables you to beat out other buyers and negotiate to get the most home for the least amount of money." He added.
According to Rudy L. Kusuma, the buyers will receive a FREE report listing the best buys on the market with photos in their desired price range and location. Moreover, this information is absolutely free of cost and there is no obligation either. Furthermore, this report is basically an insider information sent in a simple and efficient format to give the buyers a huge advantage over other buyers in today's competing real estate marketplace.
For more information and to get the report, simply visit www.teamnuvision.net/gc_bestbuys OR call 626-789-0159
To read the reviews of Rudy L. Kusuma, please visit his Zillow page: www.zillow.com/profile/rudylk/
Rudy Lira Kusuma Real Estate Broker License 01820322
Rudy L. Kusuma
RUDY LIRA KUSUMA HOME SELLING TEAM
626-789-0159
email us here

Source: EIN Presswire